Booklet of participants
Booklet of participants (english).pdf
Document Adobe Acrobat
1.8 MB
Discover the projects, ideas and solutions offered by organizations which are involved in the Climate MedCOP 2015 and 2016.
All fields are concerned, in all their dimensions:
from small local projects to those for the whole territory, the fight against carbon emissions coping mechanisms, the western Mediterranean, and south or east.
The spirit of the agora is also a time for debate: give opinions and come to share your ideas and your own projects. The Mediterranean needs to develop coalitions of actors and collaborations.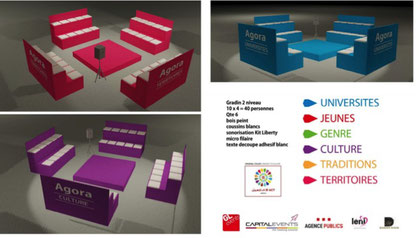 practical informations
Débats in the agoras :
from monday 7 to thursday 17 included
sunday 13 Nov : closed
the side-event MedCOP Climate day will take place November 16th at 13.00.
A spacial space is provided in the blue zone for the duration of the COP.
agoras
Each half-day includes two themes with 2 sessions
S1 - 14.00/15.30
S2 - 16.00/17.30
Place : Agora « Jeunesse » (except the 12th on Agora Territories - To be precised).
Aisle space reserved for civil society in COP 22 Green Zone.
Your CONTACT There : 
Tarik Marraha +212 6 26 21 67 05 
Agenda . Agoras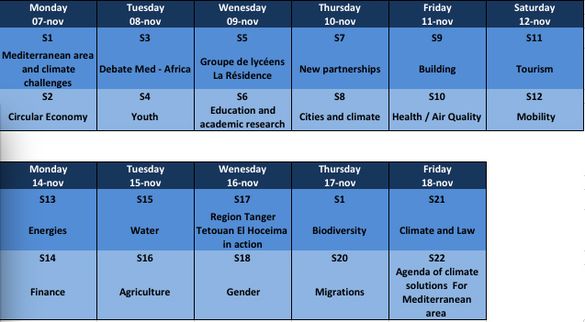 Networks involved …
Agence du bassin hydraulique du Loukkos
AIR PACA
Alliance
Alliantis
AREAS (finance participative en med)
Association des cités et régions pour le recyclage et la gestion durable des Ressources (ACR+)
Avitem
Centre National d'Éducation Environnementale de Sidi Boughaba (Maroc)
Club PPP
CNRS
CODATU
EAMAU
Equipe MedCOP Climat
FIMEA
Fondation Mohamed VI
GI-REC
GREEN CROSS
Groupe de Tanger
Haut-commissariat aux eaux et forêts
Hopscotch Africa 
I4C
IFDD
Institut économie circulaire 
Institut Euro-méditerranéen en science de risque (IEMSR)
IPEMED 
IRD
IRD Témoignage
MedCities
Medener
Medener / ADEME
OME
ONCF
R20
RADEFF(Régie de Fès)
Région de Sardaigne
Région Tanger Tetouan El Hoceima
Regional Activity Centre for Sustainable Consumption and Production (SCP/RAC)
RIAM
SBCI & SBC
SEM en partenariat avec le Comité français de l'UICN (Union Internationale pour la Conservation de la Nature)
SNCF
SOMEI :présentation ingénieur Somei et client marocain
UICN
Université Abdelmalek Essaadi
Université Aix-Marseille
Université internationale de Rabat
UPM